My least favorite part of the day is around 5:30 when my husband asks me "what's for dinner?" As much as I like to plan and make lists I hate meal planning. The shopping and the cooking I can handle but it's the pressure of finding new and interesting recipes that drives me crazy. I mean honestly, there are only so many times you can eat spaghetti in a month.
Enter
Relish
.
I had looked into this website before but never bit the bullet until it was offered on
Jasmere
and I was able to get a 6 month subscription for $13. I figured I would try it and if it didn't work I wasn't out that much money.
Let me tell you that this website is my new best friend.
Here's how it works:
Every Thursday they post a new weekly menu
You pick 7 dinners and 1 dessert to add to your list
If you don't like some of the recipes they have that week you can search their database and add some that you do like
You pick how many people you want to feed, then the magic happens
You click create shopping list and it automatically creates a shopping list, divided up by grocery section, and prints all of the recipes you need for the week! How easy!
From there you just mark off the stuff you already have, write in the few things that you need that are not dinner related and you are set to go grocery shopping.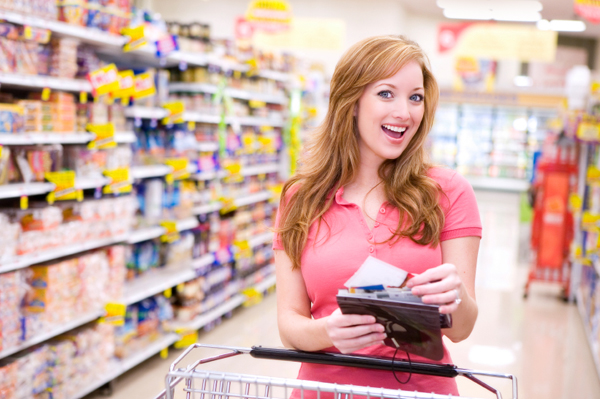 not me grocery shopping
It has been 3 months and I don't know how I've lived without it. With the exception of one really bad recipe for Greek chicken salad, all of the meals are wonderful and super easy to make. They even categorize them for you so if you want things that are kid-friendly, quick, low calorie or vegetarian (just to name a few) they are really easy to find. And for my Weight Watchers friends out there, each recipe gives you a point value so you can keep track of your daily total.
They also give you recipes for freezer meals each month which I have been hitting up recently in preparation for the new baby. Dinner is already made you just have to reheat it.
If you are a super picky eater then I would not recommend signing up but if you like a little variety in your dinner menu then this is one thing I would suggest giving a test drive. It will save you time and money and you won't have to worry about the dreaded "what's for dinner?" question every night.
A little note on the time and money comment. My time shopping has greatly reduced since I go with a list and know exactly what I need when I walk in the door. As for the money, I spend on average $80 a week on groceries. TOTAL! That's breakfast, lunch and dinner for my family of 3 (soon to be 4). Since I cook the meals for 4 people there are always leftovers that we eat for lunch the next day. Cook once, eat twice. It's a win/win.
FYI, I am not being compensated in any way to rave about Relish. I wish I were. I just think it is a really great tool for busy moms and wanted to share my experience. So if you are looking for something to save you a little extra time at the store and in the kitchen,
go check it out
.
~ Andrea